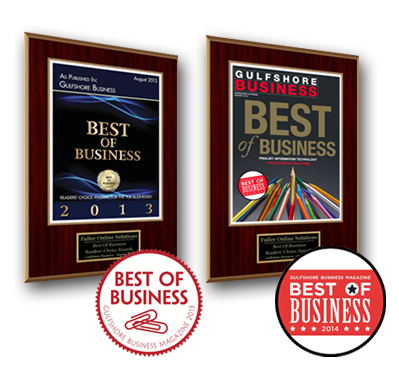 Fuller Online Solutions is a Cape Coral / Fort Myers / Naples, Florida based web design and internet marketing company, passionate about promoting you, your brand and your company online. We start by making sure you have a vibrant, dynamic, attention-grabbing website. We also make sure you have fully functional, interactive website that will keep your site visitors on the site longer. Then we set you up with email marketing and social media media campaigns to drive leads that turn into customers. To keep that traffic coming back, we then create a blog so you can be the expert and your prospects can get to know you, like you and trust you.
Not only can we help you get the most out the individual media available online, but we help you integrate them. Get your Facebook fans to your website, have your web traffic become Twitter followers. No matter how your prospects find you, we help keep you in front of them to build your brand.
Fuller Online Solutions is a proud member of Southwest Florida Hispanic Chamber of Commerce, Above Board Chamber of Florida, Florida Catholic Chamber of Commerce. We also participate in community and charitable organizations such as Make-A-Wish Foundation, SWFL Micro Enterprise of Goodwill Industries, Foundation for Quality Child Care, Multicultural Centre of Southwest Florida and MDA Helping Jerry's Kids.