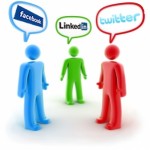 The most common mistake we see when using social media is business marketing. Entrepreneurs often join social media for business purposes, but don't know how to properly market. Here are some tips to keep in mind on how to use the services effectively and intelligently.
1.  Have a reason for being there. Don't just get on the social media bandwagon because everyone else is doing it. Identify a reason for being there first: Is it to promote your business and any sales/specials you may be offering? Is it to share your expertise? Is it to more fully engage with customers? Is it to identify and respond to customer service issues? Is it to give your business or organization more of a public persona? Perhaps it's a combination of these. Whatever your reasons for getting involved in social media, develop a strategy and stick to it.
2.  Set goals for success. You want to have key goals to measure success. Your goal could be something simple like garnering a certain number of fans or followers.  Or you could use analytics tools (here's one example: http://mashable.com/2009/10/27/social-media-roi/) to more accurately measure how social media is impacting your business.
3.  Start small. If you're new to social media, you don't want to bite off more than you can chew. Pick one site and put a stake in the ground. Once you're comfortable there, you can build your presence or expand to other sites.
4.  Choose the site(s) that work best for you. As a small business owner or the manager of a nonprofit, you don't have the time or the resources to be everywhere. If you're not the writer type or you own a business where educational material aimed at the customer is scant, a blog might not be of much use to you, for example. Create the social media presence that works best for your business or organization. Need some help figuring out what that would be? Ask your customers what sites they're already using, and then join them there.
5.  Make your presence known. Don't just sit around and wait for people to find you on social media sites. In your email campaigns, announce that you have Facebook, Twitter, LinkedIn, or other accounts, and explain to customers why they'd want to join your networks (for example, "You'll be the first to find out about upcoming sales or events"). If you start a blog, use some content from it and provide a link. Put a link to your Facebook page and Twitter feed in your website and email signature.
6.  Have a separate personal and professional account. Many social media sites offer groups or fan pages designed specifically for business. When people subscribe to your business page, you know it's a targeted group where you can talk business. Use this group to educate your customer on your business or industry, inform them of upcoming events and promotions, offer exclusive discounts and more.
7.  Do more than make sales pitches. Like the content in your email newsletters, it's important to provide your audience with useful information, not just a constant stream of direct sales pitches. Customers who read your blog, follow you on Twitter, and are fans of your Facebook page are not connecting with you for a 24/7 sales pitch. Yes, they would love to get an exclusive deal, but they don't want you to sell, sell, sell all the time. Use your knowledge and expertise to educate customers via email, a blog, and through social networks, not just to promote your products or services.
8.  Answer questions. When you interact with customers and members, do they tend to ask the same questions repeatedly? Why not share those questions — and the answers — on your social media page? You can also use the site(s) as a forum, and ask people to ask their most common questions about your business or organization.
9.  Reuse your great content. When you add one or more social media networks or a blog to your marketing mix, you do not necessarily have to come up with exclusive content for each network. Reuse articles from your newsletters to prime the social media pump. In turn, your blog's content can be used to feed your email newsletter and social network channels.
10.  Make it a part of your email marketing campaign. You can very easily add an email signup box to many of the social media sites, which will give your Fans, Friends, and Followers the chance to get even more involved with your business or organization. Post links to your newsletter content on your social media networks, which will expand the reach of your content and perhaps even encourage others to join your mailing list. You can further involve your audience by including selected comments in a future issue of your newsletter.
Fuller Online Solutions specialty is promoting your business online using social media, search engine optimization, internet marketing and website design. Visit http://www.fuller-online.com