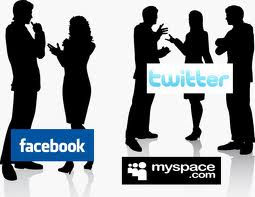 I'm sure you are aware of the explosion of social media, but do you know why you should use it to market your business and how to use it effectively? Are looking to get into the game but unsure of how to proceed, or are you wondering if the business value is there? In this article, you will find the right ammunition to successfully market your business using social media.
1. Most social media sites are free. Facebook, Twitter, LinkedIn, and MySpace all offer free accounts. You can even blog for free with services like WordPress and Blogger.
2.  They're popular. Facebook alone has more than 500 million users. To put that in perspective: That's more than the population of the entire United States. Chances are good that many of your customers or the people you want to reach are on at least one of the social media networks.
3.  They're not just for college kids. One major stereotype associated with many forms of social media: They're only for young folks. This is not true at all. In fact according to Facebook, its fastest growing demographic is users over the age of 35. Median age for LinkedIn Average age is 41. And 25% of Twitter users are between 35 and 44 years old.
4.  They allow you to be personal and professional. On Facebook, you can have two identities: one for you and one for your business or organization. Facebook offers an option known as "Fan Pages," which are different from the standard "Friend" connections, and allows you to message just to "Fans," keeping any personal information about you separate and contained to your profile.
5.  They can tell a lot about you. Think of it as your online resume. Profiles on these sites can help boost awareness about your business as they can contain pertinent information about your products and services. Much of your activity and profiles on social media sites can be made "public," meaning they can be indexed by search engines. Social media, just like your website can be optimized to be found by the search engines.
6.  They extend you, your brand, and your relationship with your customers. The goal of social marketing is to stay in front of your customers. You use email marketing to reach your customers inboxes. Now you can use social media to extend your reach into other interactive areas of the web where your customers gather. People who use social media look for other likeminded folks and businesses. Make sure they find you by having a presence on the appropriate networks for your business.
7.  They are two-way communications channels. Twitter and Facebook in particular are great vehicles for having a "conversation" with your customers. You can see what they're saying about you and respond, and vice versa.
Using tools like Twitter Search (http://search.twitter.com), you can quickly see any mentions of your business, organization, product, or service. Taking Twitter Search a step further, you can look up key terms related to your business and find out what people are saying about them. With Twitter, you don't have to be following someone or connected to them to respond. So if you see something relevant come up in the search results, you can easily and quickly respond by mentioning to their Tweet.
8.  They're everywhere. You don't have to be at your computer to post to any of the major social media networks. For instance, you can post to your Facebook status or Twitter feed via a simple text message. If you have a Smartphone like an iPhone, Blackberry, or Windows Mobile device, there are applications that let you update your social networking sites on the road.
Using these applications, you use your mobile phone's camera to capture images and video, which can be uploaded to your blog and social media accounts, giving customers a richer (and real-time) media experience. Many of the popular blog platforms also allow posting from a mobile device.
9.  They can be intertwined. Social media sites are not silos of information. You can easily share content between networks. Your Twitter post can also feed your Facebook page and LinkedIn account. Likewise, your blog posts can be automatically fed to Facebook every time you post one. But, make sure not to overwhelm one account with updates from the other. If you have a blog, make sure your posts include links to the services you use. This helps expose your post to a wider audience and helps to increase your presence when people search for you on a search engine.
10. Most importantly, keep in mind that these are communication tools and not selling tools. Use social media as an avenue to inform your customer about your products and services without making it sound as a sales pitch. Use social media to answers your customers most frequently asked questions. Also encourage satisfied customers to rave about you.
Of course you want to make money using social media, but your sales techniques should be a small percentage of your interaction; you want to avoid being viewed as spam. Social media is the perfect medium to build and maintain relationships. Maintain a good balance between information, interaction and marketing is your key to success.
I hope you find these ten reasons appealing to your social media success.
Fuller Online Solutions specialty is promoting your business online using social media, search engine optimization, Internet marketing and website design. Visit http://www.fuller-online.com